Uniform and Dress Regulations
No3 Service Dress – Field Clothing
General. No 3 Service Dress covers all forms of field exercise clothing, including the Combat Soldier 95 (CS95) range. Field exercise clothing is defined as clothing that is required to be worn for training and exercises. CS95 is not issued as part of the initial kitting scale for either male or female personnel. PCS / MTP uniform are not to be worn.
No 3 Service Dress Badges & Insignia. All CS95 jackets and shirts are to be worn with the following standard insignia:
a. The union jack emblem, when worn, is to be positioned centrally 5cm below the shoulder seam on the left arm.
b. The embroidered RAF identity patch  (RAFVR(T) Officers only)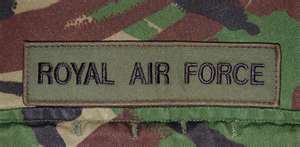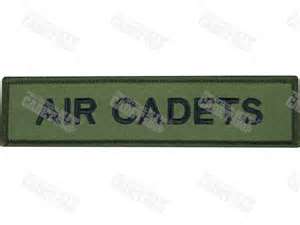 the Air Cadets Adult staff patch (WO/SNCO (ATC) and cadets) is to be affixed centrally and immediately above the right hand breast pocket of the CS95 field jacket and shirts only. The green patch measures 16cm x 3cm and is embroidered in black.
c. The RAF Tactical Recognition Flash (TRF) (RAFVR(T) officers only)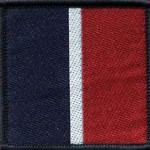 the ACO Staff Formation Flash (WO/SNCO (ATC) only) replicate the colours of the RAF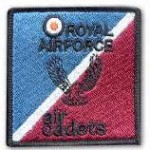 Stable belt with the addition of an eagle and 'AIR CADETS' embroidered in black on the ACO Staff Flash.
The ACO Cadet Formation Flash is green with a Viking glider, RAF roundel and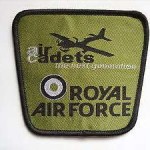 'AIR CADETS' embroidered in black. The TRF/Formation Flash is to be sewn centrally on the right sleeve
with the top edge 7.5cms below the shoulder seam. It is to be level and when worn, perpendicular to the floor. Also it should be creased down the middle – this crease should be in the same place as the crease in your sleeve. Under no circumstances, is it to be sewn onto the wet weather Gortex Jackets
This is the only approved version and any other design or copy available through civil sources is not to be worn.
Tip: In order to make sure the TRF stays creased and flat, use the spray function on your iron (if it has one) and completely soak the flash. Then run the iron over the flash until the water has evaporated. Be sure not to leave the iron in one place! It will burn your uniform!
Embroidered name badges are not worn on CS95. All other authorised insignia or badges are to appear below these emblems.
Dress Regulations – Combat Soldier 95 (CS95)
 Occasions for Wear. CS95 is to be worn for certain types of training and public duties for the Armed Forces (e.g. Public self generated fund raising activities, Leadership courses and exercises). It is emphasised, however that the ACO remains predominately a blue uniformed organization. CCF (RAF)
Sections will be expected to wear No 2 SD unless a new standing authority to wear CS95 routinely is given by the Comdt Air Cadets – this decision cannot be made by officers from other services. Furthermore, ACO personnel should not wear accoutrements affiliating them to non-RAF organizations such as stable belts, regimental berets and badges; only ACO approved variants are permitted. Civilian Instructors/ Padres are not to wear CS95 or any other DPM clothing. They are to wear appropriate / equivalent hard-wearing civilian clothing.
CS95 Authorised Ensemble. When authorised to wear and except where a specific order of dress has been prescribed through the OC Wg / Wg Ex O/ Sqn Ldr CCF HQAC, only the approved CS95 ensemble, as detailed below, is to be worn. Appropriate RAFVR(T) or ATC Insignia must be worn at all times.
Other items of operational clothing issued for specific operations outside the UK are not to be worn in the UK. Illustrations and relevant orders of dress are detailed at the end of this section. CS95 ensemble comprises :
a. Head-dress. The service issue beret is the only head-dress to be worn, with appropriate hat badge by all ranks.
b. DPM Field Jacket. No shoulder epaulettes, rank slide worn on the front rank epaulette.
c. DPM Lightweight Combat Suit (L/W Jacket & Trousers). No shoulder epaulettes, blue rank slides only are worn on the front rank epaulette.
d. T-Shirt. All year round wear under garment of an appropriate colour, (green, brown, black) Unit insignia should not be visible.
e. OG Norwegian Shirt. Under garment for cold conditions.
f. Fleece Liner (OG/DPM). Cold conditions undergarment, or suitable mid layer, not to be worn as outer layer.
g. DPM Moisture Vapour Permeable (MVP) Suit. Lightweight Gortex waterproof jacket and trousers.
h. Gloves. Black gloves, appropriate to the task.
i. Boots. Black combat style boot.
Variations in CS95 dress will be subject to exercise/training requirements, location and climate, the necessary mode will be decided upon through the relevant OC Wg / Wg Ex O / Sqn Ldr CCF HQAC. CS95 is never to be worn in combination with 'blue' uniform modes. Civilian Instructors attending Skill at Arms Instructor courses may wear CS95 during training periods only. It is not to be worn outside the training environment e.g. transit to and from messes and accommodation
Dress Regulations – The Brassard